Osiris Audionics Speaker Stands



OSIRIS STANDS ARE NO
LONGER AVAILABLE.
This page has been left up as a tribute and a information
resource for those that are lucky enough to find a pair of these stands.
Osiris Audionics went out of business around 2000 leaving a large batch of stands in inventory… we bought up and sold a bunch of those from 2000 to 2003 when the supply ran out. We did look into making a very similar design ourselves, but high steel costs plus fabrication would have driven the factory direct price to over $500 per pair which
we thought would be too expensive considering what other stands are available in that price range.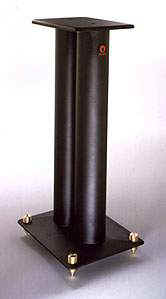 You may have not heard of Osiris Audionics (they were only around for a couple years in the later 90's), but they made some very nice isolation platforms and their superb speaker stands which received very favorable reviews and which are still used by various hi-end speaker manufacturers at Hi Fi shows. Much of the high praise for these stands was due to their excellent performance at a price much lower than competitors top of  the line high mass stands (click here to read the Soundstage! Osiris
speaker stand review).
Each stand is made of a half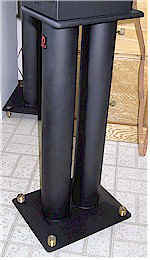 inch thick steel top and bottom plates which are connected (welded) to two 3.5″ diameter round pillars which can be filled with dry sand or lead shot. As a result each stand is fully assembled and weighs in at over 35lbs each prior to filling (shipping weight is around 80lbs for a pair). Four large brass spikes couple stand to the floor and allow for  2″ worth of additional height adjustment. To completely eliminate any resonance's in the stand, it is recommended that they be filled with clean, dry sand which will increase their weight by about twenty to thirty pounds each. Then, four small dabs of Blue-Tak (or any equivalent) on the top four corners of the stands works best to couple your speakers to these stands. The stands are finished in a durable satin black powder coat finish for a appearance that is much more elegant than picture above indicates. Click here or on the image to the right for view a larger picture of these stands!