Ars Sonum NEW Filarmonia-SM Integrated Amplifier – $5,250 Hand crafted (limited production) optimized classic design made with very high quality parts, materials, (hand wound) transformers, and more – all lovingly put together by designer/engineer Ricardo Hernandez in Madrid, Spain. The Filarmonia uses a special screen grid regulated pentode circuit and a low 6dB of feedback to deliver 28W/ch of glorious sound. The Filarmonia SM (introduced July 2019) is the latest version  of this great amplifier (it replaces the Filarmonia SK). The new Filarmonia SM incorporates multiple improvements:
A completely new highly optimized circuit board design. It incorporates multiple improvements to the power supply, optimized audio signal path routing, improved ventilation, and audio circuit refinements for considerably better performance and sound. The only sacrifice is 2 less watts per channel than previous versions.
All coupling capacitors in the audio signal path have been upgraded. The front end new uses V-Cap Copper Teflon capacitors and in the driver/output stage there are Mundorf Supreme Silver/Gold/Oil parts. All are top quality and excellent sounding (and expensive) parts.
The power supply improvements necessitated the design of a completeley new power transformer to supply additional voltage supple/regulation circuits.
The Filarmonia SM comes with thoroughly tested and matched JJ E34L output tubes, select NOS 5814A driver tubes, and a carefully screened (only about one out of four to five new tubes meet Ars Sonum's spec's for use in their amplifiers)  low noise JJ E88CC gain/preamp tube for excellent performance right out of the box without any tweaking or tube-rolling necessary. Additionally,  all signal path capacitors go through a 1,000 hour run in process (on a proprietary coupling capacitor break-in device) before being installed in any Ars-Sonum amplifier.  While the amplifier does require break-in to sound its best, the run in process minimizes the coupling capacitors effects during this period.
Ars Sonum produces its amplifiers in limited quantities. Generally they are built to order, but we are working with Ars Sonum to pre-order units in order to minimize lead time. As well, we also have a fully broken in demo model that is available for audition here at Signature Sound or in YOUR home (please call or e-mail to make arrangements for a home demo of the Filarmonia SM) before placing your order.
For the ultimate turn-key experience, the Filarmonia SM can be purchased with a optional Clear Beyond or Clear Beyond XL Power cord at a substantial savings.  See the Ars-Sonum USA Product Summary & Price Guide linked to below for details.
Filarmonia SM White Paper (PDF)
Ars Sonum USA Product Summary and Price Guide (PDF)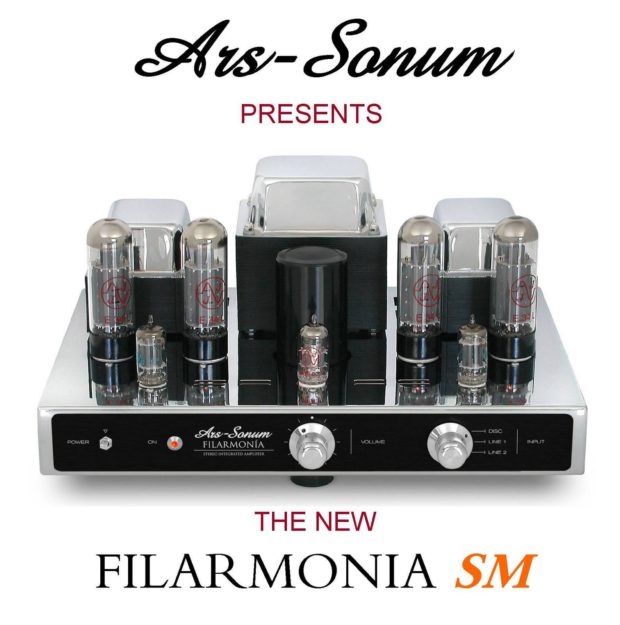 FILARMONIA REVIEWS



We do not have any reviews yet of the new Filarmonia SM version. We have some older reviews here on the previous versions of the Filarmonia. These include Positive Feedback Online's review of the Filarmonia SK by John Marks. We also have a English translation from StereoLife in Poland of their detailed rave review of the Filarmonia SK. Then we have a link to John Mark's first review some 10 years ago of the original Filarmonia SE that earned ht amp a Stereophile Class A rating at that time!
Positive Feedback Online Filarmonia SK Review (2018)
StereoLife (Poland) Filarmonia SK 2018 Review (English Translation PDF)
Stereophile Review of the Filarmonia
Coming This Fall 2019!