Clearuadio Maestro v2 Ebony MM Phono Cartridge – $1,200 US Retail. The new (released Fall 2012) Maestro Ebony v2 is the top of the line in Clearuadio's  Ebony v2 MM series of phono cartridges. It uses a boron cantilever (as opposed to aluminum in the cheaper Ebony series cartridges), Micro HD stylus plus very (and more precisely matched than on the Artist) strong magnets with the cantilever-stylus assembly to reduce the moving mass of the cartridge motor in order to optimize phase coherence and transient characteristics. The Virtuoso v2 Ebony Wood is built to tighter tolerances than the Performer & Artist.  This is truly an impressive MM cartridge which will hold its own against most any comparably priced MC. The Maestro v2 is a bit heavier (and tracks a bit heavier) than the other Ebony series cartridges and works best with the heavy Tungsten counterweight when used on Rega tonearms/tables, but it pays off with even better soundstage, clarity, and dynamics than the Virtuoso, but it still has great MM tonal characteristics.
With the V2 series of MM cartridges, Clearaudio set new standards in the technical parameters of impedance, inductance, load capacitance and sensitivity. Ongoing research and development have enabled us to attain near perfect balance of the stereo channels, reduce distortion to vanishing levels and increase output level with a flat frequency response to provide a vivid and enthralling musical performance.
All of Clearuadio's Ebony MM V2 cartridges deliver the following enhancements over earlier models:
A resonance-optimized ebony housing for less coloration and more natural sound
More powerful magnets producing greater dynamic range
Higher output voltage for lower noise levels.
Specifications:
Frequency response: 20 Hz – 20 kHz
Output voltage: 3.6 mV
Channel separation: > 32 dB
Channel balance: < 0.2 dB Trackability: > 90 µm
Recommended tracking force: 2.2 – 2.6 g, optimal 2.5 g
Coil impedance: 0.70 kOhm
Coil inductance: 0.42 H
Loading impedance: 47kOhm
Loading capacity: 100 pF
Cantilever: Aluminum
Weight (Wood): 8.5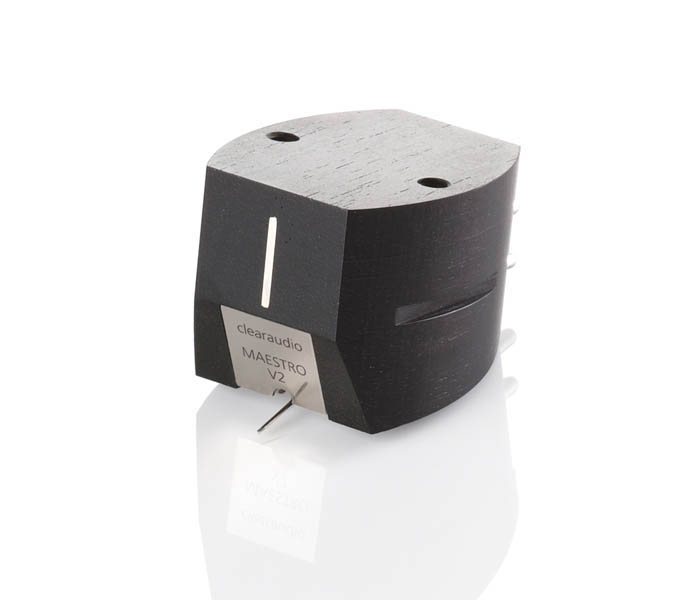 Clearaudio Maestro v2 Ebony MM Phono Cartridge