Signature Sound
Joule-Electra Information Library

Reproduced from old Joule-Electra Literature
OPS-4 Marianne Electra Memorial All
Tube Phono Stage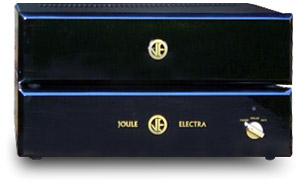 Joule Electra is introducing next preamp in the series dedicated to the memoriam to the Co-founder of Joule Electra, Marianne Electra Barber. This is phono stage, OPS-4 ME, that incorporates all the features that have made the OPS series of phono preamps the most sought after in Hi End Audio.
The new preamp is a highly refined version of the older OPS-2 which incorporates signal wiring designed specifically for Joule Electra by well known cable designer David Elrod of Elrod Power Systems. The signal wiring combines a combination of 6 nines silver and copper in a
unique transmission line configuration. Among multiple improvements, the signal path capacitors are a mix of V-Caps and Mundorf Silver, Gold and Oil which represents the very best capacitors available to the High End Audio Community. The "super chargers" in the power supplies are huge Mundorf M-TubeCap capacitors which combine a high degree of dielectric strength and low residual inductivity. These capacitors can supply, very quickly, extreme peak currents and can be heard and felt.
The OPS- 4ME with separate power supply is complete phono stage offering the committed vinyl enthusiast the platform of choice for playing records. Medium and high gain, for moving magnet or moving coil cartridges, all tube power supplies and the option of a volume control and
remote volume control, it can be complete, single function preamplifiers for the ultimate playback of records. OPS-4ME can also be used with a line stage LA-300ME. This extraordinary phono preamplifier is hand-built for a singleness of purpose and is full dual mono construction . If you only play records and you love the music in your record collection, the OPS-4ME with a volume control is the purest path those notes can take.
Specifications

Gain Selectable

High 62dB / Low 36dB

Input Impedance

High / Low 47,000 Ohms
Alternate loading available

Output Impedance

1,000 Ohms

Output Voltage

7 Volts into 5,000 Ohms

Equalization

RIAA +/- 0.5dB

Noise

-60dB @ 2 Volts Output

Weight

Phono Stage – 10 lbs.
Power Supply – 15 lbs.

Stored Energy

100 Joules

Dimensions

Width – 17 inches
Height – 4 inches
Depth – 9 inches

Tube Compliment

four- 5751's,




two – 6DJ8's,




two – 6350




and two- 6EM7

This historical information is provided courtesy Signature Sound.
We provide support, service and upgrades on Joule-Electra products.
Click here to go back to our main Joule-Electra resource and information page