Signature Sound
Joule-Electra Information Library
LA-150MKIISE Line Stage Preamp Overview
Reproduced from old Joule-Electra Literature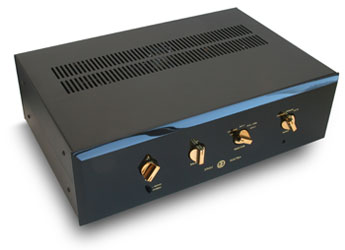 LA-150 MkII Signature Edition (SE)
Line Stage Pre-Amplifier
Joule Electra is introducing it newest version of well known LA-150. The new preamp is a highly refined version of the LA-150 MkII which incorporates exotic capacitors in output stage as well as some other changes similar to that of our new flagship, Marianne Electra Memorial Preamp LA-300ME – however, at much more affordable price. In developing this version of the 150 our quest was for a more fleshed out and musical sonic signature of LA-300ME while retaining the robust nature of the Mark II, the winner of HP of TAS Golden Ear Award 2007. We are delighted that we achieved this goal and the result is a remarkable preamp possessing all the virtues that most audiophiles desire in a line amplifier.
The new version, dubbed LA-150 Mark II Signature Edition  also uses the same topology as the original design with both the Mu Follower and Gain Stages now utilizing the NOS 6350. This tube has long been out of production but we have several thousand of these tubes on hand. We have been using this tube for over 17 years in the LA-100, :A-150 MkII and our OTL's so it was only natural for us to continue its use in our newest preamp. Needless to say, we have been gratified with the success of this refinement.
The output signal can still be taken from either the plate of the Gain Stage or from the Mu Follower depending on system drive requirements. Most systems will sound best with the "Plate Follower" drive which is implemented with only a single vacuum step in the signal path. The preamp is very dynamic, completely free of glare or edginess, and boasts a 3 db down point at 5 and 100,000 cycles respectively. The 10,000 cycle square wave response is essentially perfect and hum and noise are extremely low. The bass performance of the preamp is very strong and solid and the treble is open and airy with great extension.
Please e-mail or call us with any further questions or for a price quote!
All Tube Design including separate tube regulated B+


supplies for each channel – dual mono construction

Separate regulated DC filament supplies

Four inputs including Tape In/Out – dual output jacks

All inputs – "Virtual Direct"

VH Audio & MIT Caps, Cardas or Purist Wire and Jacks, Holco




Resistors

Tape loop does not require buffer stage for isolation

Separated mute relays for each channel; auto and manual mute

Separate passive volume and balance system with 'shunt to




ground' input (not in signal path)

Rear mounted selector switch for short signal path and

Multiple contacts in signal path

Adjustable battery bias for gain stage

"Tri-flex" elastomer suspension for signal board

State-of-the-art "Sound Coat" and "Ear Isodamp Vibration"




isolation materials

Remote Included

Warranty Parts & Labor, 3 yr
Specifications

Input Impedance

15,000 Ohms

Output Impedance

Selectable: 400 Ohms & 1200 Ohms

Distortion

< 0.1% @ 5 volts into 5,000 Ohms

Gain Bandwidth

0 to 11dB, Selectable100 kHz

Tube Complement

2 – 6EM74 – 6350

2 – O-A2'a (or Zener Diodes)

Weight

23 lbs.

Power Consumption

< 50 watts

Power Storage

150 Joules

Dimensions

Width – 17.5 inches

Height – 6.0 inches

Depth – 12.5 inches

Channel Separation

Fequency Response

> 80dB

10 Hz – 100 kHz  (+/- 1 dB)
This historical information is provided courtesy Signature Sound.
We provide support, service and upgrades on Joule-Electra products.
Click here to go back to our main Joule-Electra resource and information page